Review of Brooks Miniature Hereford Herd
Today was a day to move the last cow/calf pair over to the largest pasture with the rest of the herd.  We are now up to 20 head total which is our largest number ever.  Now the question is "Too big of herd for land we run? Anyone want some beautiful registered heifers in about 6 months?"
Decided to snap a few photos and post.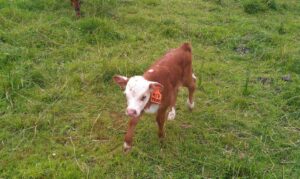 Our 5th 2013 calf and another heifer! It's the year for heifers!  4 of out 5 this year! Guess we'll be selling more heifers than beef 2014.
The cow herd and babies.  8 moms, 5 2013 calves, and 2 summer 2012 surprise steers
A nice side photo of a 2012 steer that will sell this fall.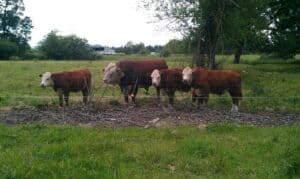 A photo of our bull Justin and 3 of his 6 2012 steers.  We just need to keep him away from his girls till around July 5th.
The herd is looking good and grass is looking good too. All of this spring rain will help keep the pastures lush!
Enjoy the holiday weekend and Thank a soldier for the Freedom we have!