I began my surveying career in 1987 working for CH2M HILL in Portland Oregon. I started out as a rod person and have over the years worked up through the different levels to managing the Land Surveying group. I oversaw a group of 9 surveyors that were able to work on many large, exciting projects in Oregon, the Northwest, across the United States and even some international projects using some of the latest surveying tools. We were a small group that got exposure to large projects and the latest technologies. Projects like Design Build (Complete project from start of Engineering to Completion of Construction by one team) of 18 bridges over 60 miles of Oregon I-5 in 24 months to mapping for Sellwood Bridge replacement to mapping for TriMet Portland to Milwaukie Light Rail plus many other small and large projects. It was very fun and very rewarding the types of projects we got to work on and the quality of work we were able to do. After 22.5 years with CH2M HILL out of 25 years of Land Surveying for Consulting Engineering (short stent working for a small Engineering/Surveying firm for 2.5 years in the late 1990's) the poor economy forced a mutual agreed upon layoff. This is when I discovered my next adventure of using the skills I had acquired to support Precision Ag with Land surveying and GIS. I enrolled in a one-year GIS certificate at Clackamas Community College and started a business called Ag Geospatial NW, LLC, providing support to Ag data base management and land packages with Land Surveying and GIS. I have always been a data collector and presenter and my happiest times were collecting data and presenting it so this fits my best skill sets and work enjoyment.
In Surveying I have been blessed to have been exposed to almost every kind of surveying possible. This includes being first on the site for startup of a project for mapping to last off the site after construction and post monumentation of boundary or right-of-way. Surveying has included establishment of survey control by traversing, leveling, and GPS, followed by mapping by setting photo targets for photomapping or LiDAR flights. We have also provided 3D Laser Scanning, underwater bathymetric mapping and supplemental ground mapping support. After this fieldwork we created 3D basemaps with planimetric features and elevation contouring in CAD or GIS. Along the line we mapped above ground and underground utilities. We also collected data for property boundary and right-of-way resolutions. This too all came into the office to be added to the basemapping or used to create overall boundary maps for upcoming design work and future right-of-way needs like easements or acquisitions. We wrote many legal descriptions and created record drawings of existing and proposed land needs. After design we had many opportunities to do construction staking on structures, roads, wetlands, and more. To finish it all up at times we did asbuilt mapping and then Post Monumentation of acquired properties or right-of-ways. We worked on streets, highways, Interstates, bridges, roads, water reservoirs, water plants, sewage treatment plants, sewer and storm pipelines, wetlands, gas pipelines, military bases, airports, power lines, railroads, industrial sites, Superfund sites and more. As noted we had great exposure to many types of surveying and technologies over the years that I can carry forward as experience and ideas for future projects.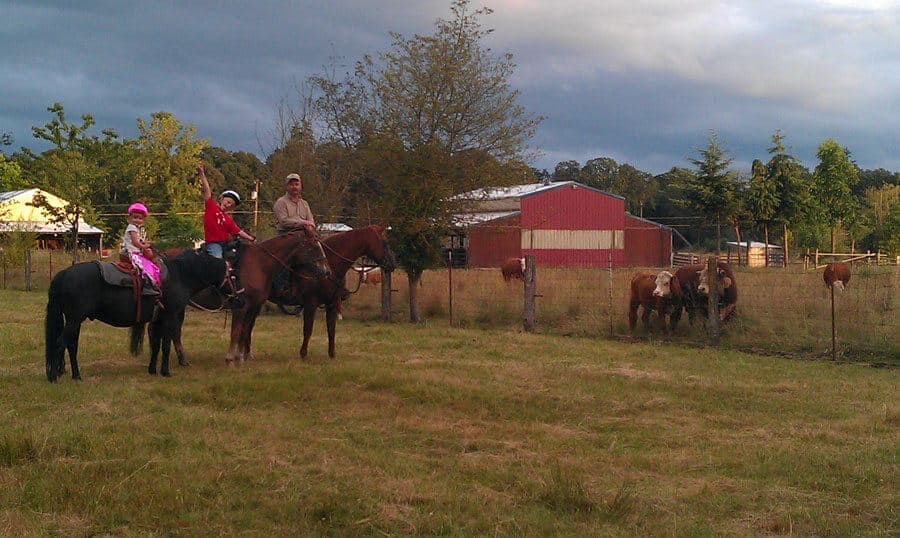 I grew up in the Willamette Valley between Portland and Salem west of I-5. We lived in a rural area on a couple of acres surrounded by farms. I always had summer jobs working on neighboring farms from age 14 to about 22 where I learned the values of hard work and enjoyment of being outside.
I have been married since Sept 1991 after we met at the 1988 Pendleton Round Up. Kim is my best friend and partner in all that I do. We were married 11 years before we had our son and then 4 years later our daughter.
We have a small ranch just outside of Molalla, OR and are surrounded by 3 large farm/ranches. We raise miniature Hereford cows and have a couple of horses. We love the lifestyle living in the country brings us and the experiences it provides our children.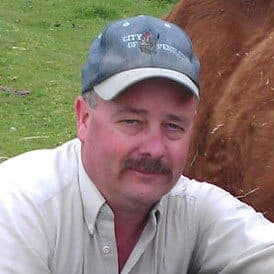 Resume of Tony Brooks, PLS