So this week I was out surveying a rural property and looked up to see this yard sign.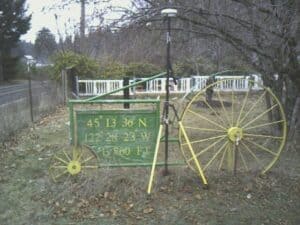 So what would you expect a Surveyor to do? 
You got it, put the GPS unit next to it and check the results!
My results:
45° 13' 17.23569" N
122° 28' 15.14109" W
871.69 ft NAVD 88
So by my calculations this sign should be moved
N 16° 55' 18″ W a distance of 1982.09 ft
It was set by a previous land owner so no clue on how established or how long ago for methods used
Just another fun day out in the field surveying!  Got to love it & I do!